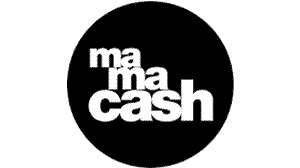 Mama Cash Fund to Women Human Rights Defenders Network Uganda. Read More

Caption: WHRDs from Karamoja pose for a photo after the workshop.
WHRDS from Karamoja region are involved in fighting against GBV, FGM, Widow Inheritance and defending Land and environmental rights, Child rights, women's rights among others. These are rights that were formally not observed or respected due to cultural and social norms in Karamoja region. For instance, women were inherited as property upon the demise of the husband. A girl had to go through FGM to be considered a "real woman". Women did not own land and physical battering was looked at as disciplining a woman or a child.
This has made the work of women defenders increasingly difficult as they maneuver cultural norms to fight against violence inflicted on them. It is a difficult battle that can only be won by speaking out to challenge the existing cultural and social norms.  Below are some of the challenges they faced in the course of their work.
A child's rights woman defender from Amudat district followed up on a case where a young girl had been raped and reported it to the police. To her surprise, the police abused her for making sure of an arrest and the parents of the girl only asked for compensation while resisting the arrest of the perpetrator.
A female journalist and woman defender against Female Genital Mutilation (FGM) from Kapchorwa district narrated how she was attacked by cultural elders for speaking out against FGM. They claimed that it was their cultural norm and a rite of passage to womanhood for their girls in the Sabiny culture. This forced the woman defender to abandon her work in the region for two years as she sought asylum in a new location.  It is important to note that girls who underwent FGM suffered excruciating pain, swellings and keloids in their private parts.
In addition, a human rights defender for women's rights went through an ordeal where she lost her husband and his relatives wanted to take all property she jointly owned with him. She immediately reported the case to Uganda Law Society and got legal support. It could have gone sour if she hadn't quickly reached out to a legal organization for help.
Another woman defender for reproductive rights recalled an incident where a pregnant woman died due to negligence of the nurse in charge of the labor ward that day. She reported the nurse who was later arrested and taken into custody. This made other medical staff skeptical and they singled her out as a problematic person. They later on refused to give her any medical assistance since that incident yet she was only doing her work as a Human rights defender.
Following the above challenges, the women defenders  had a training in Moroto district where they  were trained in networking, advocacy and lobbying  strategies to enable them build supportive networks among themselves, advocate for human rights as well as lobby duty bearers to take action by protecting them from physical attacks.
They were equipped with human rights advocacy strategies such as research and analysis, networking and co-ordination, planning, implementation, monitoring and evaluation and problem identification. The WHRDs made resolutions and appreciated the strategies stating that they will guide them in their human rights work as they continue to raise their voices against violations in the region of Karamoja.
The WHRDS also raised concerns and requested to be trained in issues of security, given more information on protection, monitoring, reporting and evaluation. They further asked for self-care and collective healing spaces and more opportunities to have networking activities for them.
The WHRDNU took their concerns into account and is committed to providing them with support and spaces to enable them continue with their human rights work.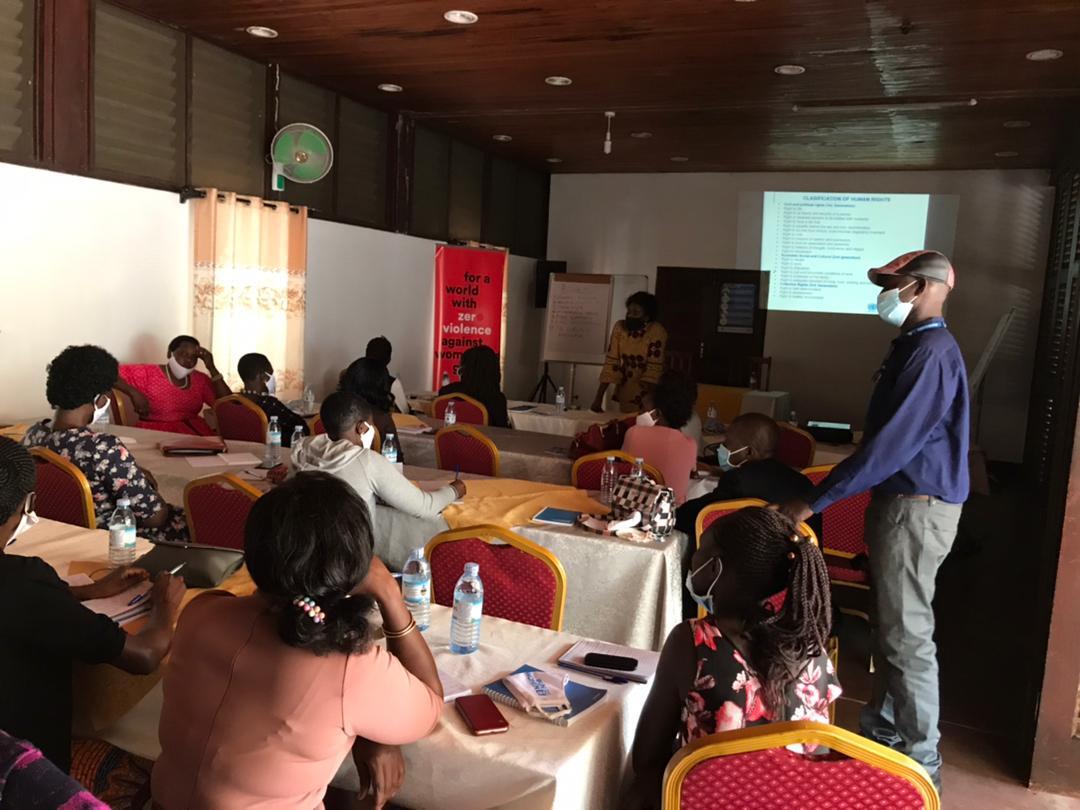 Caption: Brenda Kugonza E.D WHRDNU conducting her session during the training.
On the 19th of May 2021, 20 Women human rights defenders (WHRDs) from Karamoja region were trained in Human Rights Activism in Moroto district, Uganda. They were trained by UN Women together with OHCHR and Women Human Rights Defenders Network Uganda (WHRDNU) from 19th to 21st May.
It aimed at improving their skills of doing human rights work. The meeting was organized following concerns raised by WHRDs related to backlash from their communities, increased gender violence, police resistance and rampant name calling.
During the training, the Women defenders outlined key national protection institutions they can partner with in their defense of human rights. These included Uganda Human Rights Commission, Uganda Law Reform Commission, The Justice, Law and Order Sector. The Uganda Police Force and Equal Opportunity Commission (EOC). These institutions defend and advocate for human rights and human rights activists.
The WHRDs were also introduced to the national and International human rights protection mechanisms. For instance the Universal Periodic Review (UPR) is an international human rights protection mechanism. The UNOHCR facilitator informed participants that Uganda was reviewed in UPR in October 2011 noting that the government received over 170 recommendations and accepted 129.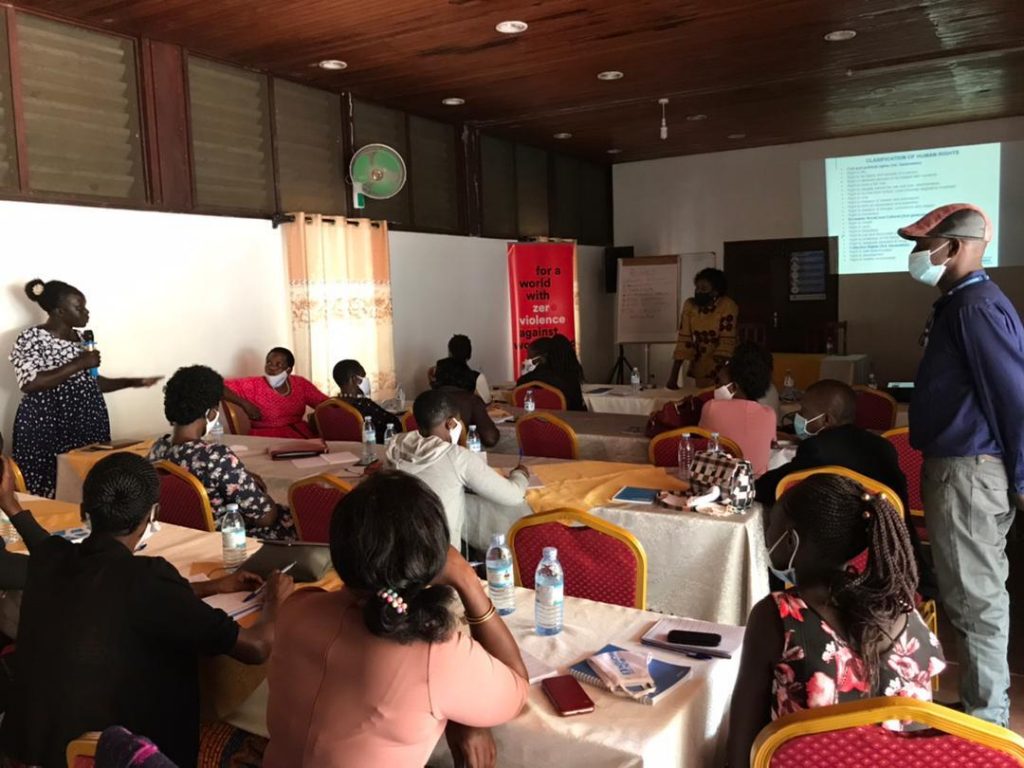 The Women defenders were encouraged to work amicably with duty bearers. For instance they can build a friendly working relationship with police officers in their areas. This would make it easy for them to report an attack or follow up on cases.
The training methodology encouraged participation by every member. For instance, the WHRDN-U staff, divided participants in to 3 groups. The group discussions enabled participants to discuss key questions namely:
Identify the offline and online security threats, risks ad attacks that WHRDs face in Karamoja Regions.
Suggest practical ways in which these off-line and on-line threats, risks and attacks can be addressed or prevented.
In what ways can WHRDs in your region prevent or respond to attacks against them.
Responses to questions above.
The first group cited denial to speak in meetings/gatherings, arbitrary arrests, name calling, denial to access services, online bullying, hacking and revealing of private information to the public.
The second group suggested solutions such as avoiding joining multiple WhatsApp groups, desist from sharing hate speeches or personal information online/ offline. Having a 24/7 helpline like the one of WHRDNU at all times, use of different routes to avoid being followed unaware and referring cases to WHRDNU for support.
The third group gave insights on how women defenders can prevent or respond to attacks against them. These included but were not limited to reporting cases to authorities, burden sharing to overcome trauma, recording phone calls to do with threats, having good relationships with other WHRDs and joining professional organizations that can help.
At the end of the training,  the WHRDs were appreciative of the new knowledge and skills they had acquired from the workshop.