LBQ and sex workers defenders expressed concerns of arrests, sexual assaults, stigmatization, defamation, and discrimination because of their sexual orientation, gender and expression. This was revealed in a workshop of 15 LBQ and female sex workers defenders organized by Women Human Rights Defenders Network Uganda (WHRDN-U) on 14th/01/2022 at Arch Apartments in Kampala.
The aim of the workshop was to raise the visibility on violations faced by LBQ and female sex worker Women Human Rights Defenders (WHRDS), share best practices for the protection and encouraging solidarity among WHRDS.
The workshop was facilitated by Wanyeze Carol from Queer Women Leaders supported by Bonita Asinwire from WHRDN-U. Bonita began with a session on a reflection on being a defender which she called the "River Of Life" where WHRDS shared their journeys of being defenders.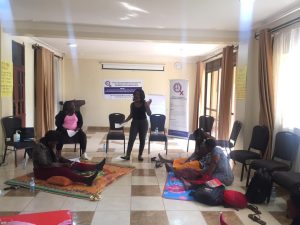 Bonita taking participants through river of life session.
Grace Kabayaga from Empowered at Dusk Women Association shared that she started her activism work in 2006 when she received funds from different donors. After two years, donors stopped funding the organization and it collapsed. Women in her organization were raped, arrested and accused of promoting prostitution by the police. They later teamed up with Akina Mama Wa Africa which supported them to receive new funds from a new donor in 2018.
Kirsteen Sebbabi from Queer women leaders started her journey of being a LBQ activist excitingly. In the course of her journey, she started clashing with people who did not believe in defending the rights of the LBQ. She thought of giving up, but later she learnt how to fight her battles and stand for their rights.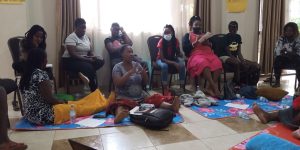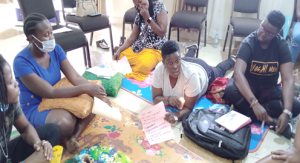 Grace Kabagaya (on the right) and Kirsteen Sebabi (on the left, resting on mat) sharing their live experiences during the workshop.
Carol Wanyeze led participants through risks and attacks they face as WHRDS and clarified that, the risks are based on their identities as lesbian, bisexual women, queer or transgender men, and also their work as persons defending the rights of LBQ's. Many sex workers defenders are arrested, sexually assaulted, accused of human trafficking, criminalized and not allowed to register their organizations among others. She emphasized that although they face these risks, there is a need always to speak out so that people can understand these challenges in order to be protected. Participants also revealed that they faced some of these risks.
Mimuna Keko, a sex worker from Werain in Arua district mentioned that she requested to register her organization but it is now a year since she received any feedback.
Grace Kabayaga also expressed that she mobilized health workers to provide medical services to sex workers in one of the hot spots in Kawempe. They were unfortunately attacked, threatened and accused of promoting prostitution and homosexuality by the police.
Shankx from Rella Women's Foundation mentioned that, in their shelter, unknown people wrote pieces of paper with threatening messages and threw them at their gate. One day the police raided them and tried to undress them saying that they want to check whether they are women. They called their lawyer who negotiated with the police and they relocated.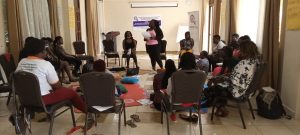 Carol Wanyeze facilitating on risks, attacks and challenges LBQ and female sex workers face.
Carol further encouraged participants to report cases to the secretariat so that they can be supported. She also emphasized the importance of self-care. "As WHRDS who work on issues of human rights, we spend most of our time taking care of others and forget to take care of ourselves. When we don't take care of ourselves well, and continue to work with in a trauma-based environment, violent, and fatigue, we will start to feel so tired, and give up." Carol mentioned these while leading participants into a 30-day selfcare challenge that involved what WHRDS must do to get relief and enjoy their work.
Towards the closure of this workshop, WHRDS got inspired and recognized risks, attacks, and the need to take care of themselves before others. LBQ and female sex worker defenders also committed to recommend at least two members to the secretariat and reach out to their colleagues in case they are attacked.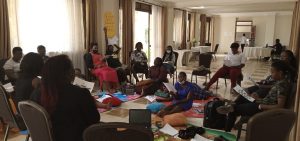 Participants commit a 30 days self-care challenge.